Regulated access between Playa de Los Genoveses and Cala Carbón, in the Cabo de Gata-Níjar Natural Park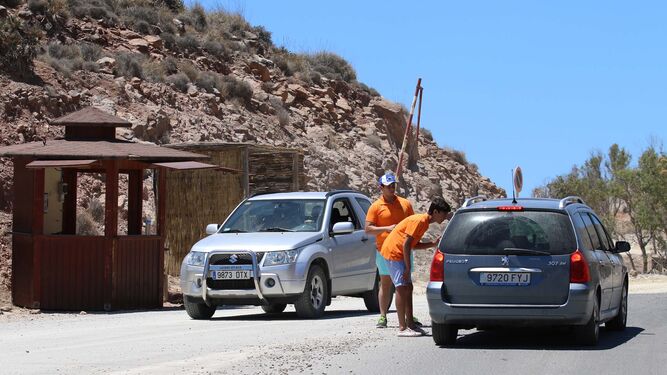 Until next September 26, three areas will be enabled for access to the main beaches, Los Genoveses, Barronal and Mónsul, with a total capacity to accommodate 399 vehicles. The schedule of the access control and regulation service It will be from 9:00 a.m. to 7:00 p.m. between June 12 and 30 and September 16 to 26, setting the schedule from 08:00 to 20:00 for the period between July 1 and September 15. To improve access, two control points will be established.
Access to these beaches, coinciding with the hours of maximum influx of users, will be restricted in specific morning and afternoon time slots, guaranteeing at all times access to the beaches through the public transport line authorized by the Transport Consortium . Every day included between July 1 and August 15, once full capacity has been reached in the early hours of the morning and in any case from 11:00 a.m. to 2:00 p.m., the access will remain closed, as well as from 16:30 to 18:30 during the afternoon hours, allowing in the central hours of the day, in case of availability, continuous regulated access to complete the capacity enabled.
BEACHES WEST OF SAN JOSÉ:
Those between Los Genoveses beach and Cala Carbón.
Hours from 09:00 to 19:00. Uninterrupted hours depending on capacity
existing:
From Saturday June 12-June 30
September 16-September 26
Hours from 08:00 to 20:00. Closing hours from 11:00 a.m. to 2:00 p.m. and from 4:30 p.m. to 6:30 p.m.
(In the event that the capacity enabled is completed before the established time, the closing
will come forward at that time)
From July 1 to September 15
PRICE: € 5 for each motor vehicle (understanding the nature of transport
individual, private or public). The price will be paid by the Comprehensive Service of control and
regulation of accesses, environmental information, maintenance of the
regulation site (cleaning of beaches and surroundings, portable toilets service
hygiene, maintenance and irrigation of the road to keep it in optimal condition
as well as the minimization of the emission of suspended particles).
Allowed speed on the main access road is 20 km / h.
The Public Transport Service with extension to these beaches through the BUs Almería-San José del Consorcio de Transportes (JA), is scheduled to begin in the
first days of July, data that will be confirmed later.
BEACH OF THE DEAD
Parking access control period: July 1-September 30.
-Hours from 08:00 to 20:00. Uninterrupted hours depending on capacity
existing
-Price: € 5 caravans, € 4 conventional vehicles and € 2 Motorcycles
-The City Council of Carboneras will enable public transport from the urban nucleus.