Quartz in Cabo de Gata
Source
Quartz is formed primarily during crystallization slow motion of highly acidic terminal magmas. They are those that remain in a residual form when, during the ascent, the dark colored ferromagnesium silicates are segregated in deep regions.
As a result, quartz is one of the minerals that characterize the composition of the plutonic magmatic rocks that form the plinth or basement of the continents, especially the granite. Quartz is the last of the minerals to solidify during the formation of these rocks, so its shape adapts to that of the pre-existing crystals of the other components, and its faces do not reflect its crystalline structure.
Quartz is very chemically inert and resistant to chemical weathering caused by the elements, while its grains are very hard and difficult to erode on its surface. As a consequence, the quartz of the granite remains whole, while the other minerals (micas Y feldspars) become clays as they disintegrate.
Clays are essential in sedimentary processes, while quartz grains are those that form most of the sands.
Chemical formula: SiO2
Class: Silicates
Subclass: Tectosilicates
Group: of silica
Etymology: It derives from the German \ »Quarz \» old name for this mineral.
Crystallography:
System and class: Quartz (a) low: Hexagonal 32, Quartz (b) high: Hexagonal 622
Space group: Quartz (a) low: P3221, Quartz (b) high: P3121 a = 4.91 Å, c = 5.41 Å, g = 120 °; Z = 3.
DRX lines (intensities) d's: 4.26 (8) - 3.34 (10) - 1,818 (6) - 1,541 (4) - 1,081 (5).
Physical properties:
Colour: Considering the difference in color, the following varieties of quartz are given:
Macrocrystalline varieties: Transparent rock crystal. Opaque white milky quartz. Violet transparent amethyst. Pink, red or pinkish rose quartz. Citrine or transparent yellow false topaz. Gray or black smoky quartz. Fake blue sapphire quartz. Hyacinth of Compostela opaque red.
Cryptocrystalline or Chalcedony varieties: Agate with bands parallel to the edges in bright colors. Onyx with alternating bands of light and dark colors. Opaque jasper with bright colors. Opaque flint in light and dark colors. Silicified wood xylopal. Heliotrope green with yellow spots also called Blood Jasper.
Stripe: Colorless
Brightness: Intense vitreous especially in rock crystal, matt in chalcedony.
Hardness: 7
Density: 2.65 g / cm3 quartz (a) and 2.53 g / cm3 quartz (b)
Optics: Weak birefringence, rotational polarization, positive uniaxic.
Other: Strongly piezoelectric.
Chemistry: It is pure SiO2 with 46.7% of Si and 53.3% of O.
Quartz has two forms: quartz a stable up to 573º and quartz b above it. It is only attackable by molten borax and hydrochloric acid.
How to introduce yourself: In crystals sometimes of considerable size, hexagonal, crowned by a trigonal pyramid. These crystals can be found either isolated or twinned according to three important laws: Delfinado, Brazil and Japan or in groups forming drusen or geodes. The crystals usually have inclusions of other minerals, water or gases. Also in irregular or compact grains.
Genesis: Quartz is the fundamental component of many types of rocks, especially acidic igneous rocks, hence it is so frequent and abundant, but also in sedimentary and metamorphic rocks because it is very resistant at the same time. Chalcedony is hydrothermal with a low temperature, around 120ºC, forming near the surface.
Deposits in Spain: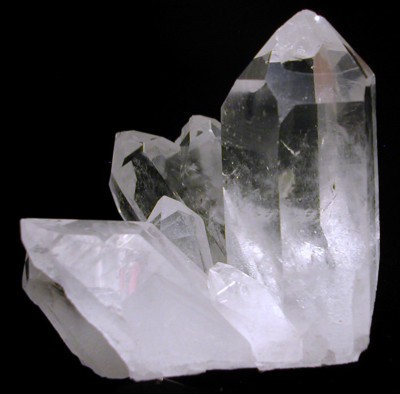 Good crystals have been collected in groups, in Villasbuenas (Salamanca), as well as in La Cabrera accompanied by good ortose crystals and in general in many points of the Sierra de Guadarrama and Somosierra (Madrid) and in Verín and Padrenda (Orense).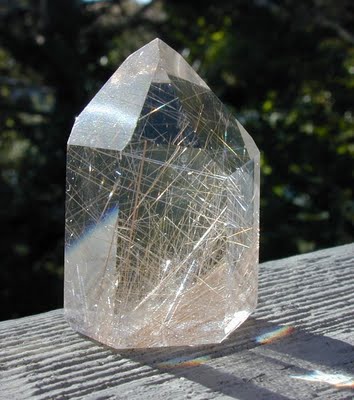 Con inclusionit is rutile: the examples of La Collada in Asturias are famous.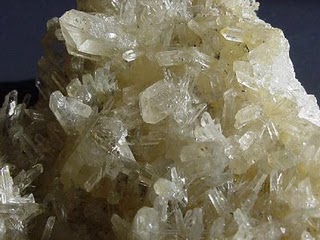 Also in Madrid, on the banks of the Manzanares, the boulders of hyaline quartz To those who were given the name of Diamonds of San Isidro.
From Quartz ferruginous Notable specimens have been collected in the province of Salamanca.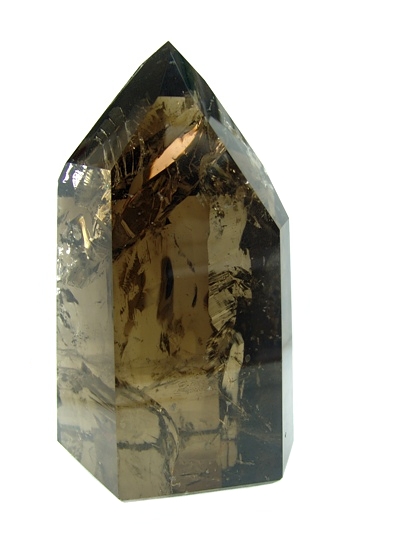 Variety Smoky quartz called in Spain «Morion Quartz» It has been found in Las Caldas and Cabrales (Asturias), La Cabrera and Bustarviejo (Madrid), San Miguel de Saccott (Gerona) and Cerro Muriano (Córdoba) and in Cangas de Onís (Asturias).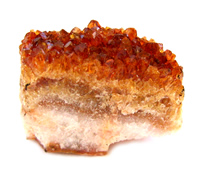 The False Topaz or Citrine It is cited in Hinojosa del Duero, Villasbuenas and Vitigudino (Salamanca), Serradilla (Cáceres) and Monesterio (Badajoz).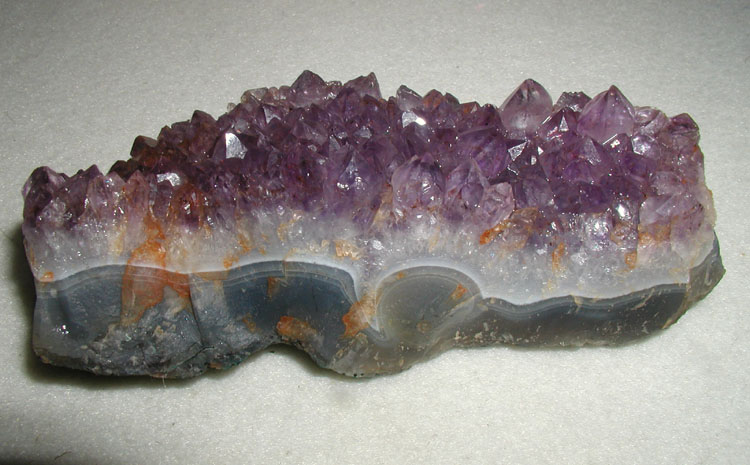 Amethyst. Good specimens appear in the sphalerite and greenalite cuts from the La Unión mines. It has also been found in some places in Cáceres, Vich (Gerona), Sierra de Córdoba and Los Escullos (Almería).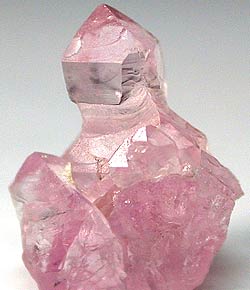 Rose Quartz. Specimens have been found in Ramascastañas (Avila) and in El Cardoso (Guadalajara), Oliva de Plasencia and Logrosán (Cáceres), Pereña (Salamanca) and Puebla de Carañíal and Santa Eugenia de Ribeira (Coruña), but the largest quantities found in Spain they come from the provinces of Córdoba and Badajoz.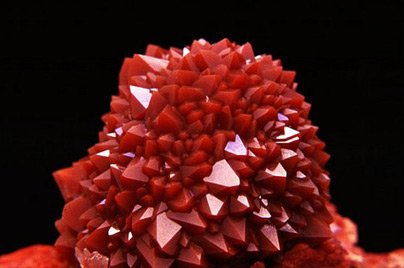 Compostela hyacinth. They can be found throughout the reddish clay terrain of the Keuper in the Trías, highlighting the towns of Minglanilla (Cuenca), Molina de Aragón (Guadalajara), Losa del Obispo and Buñol (Valencia).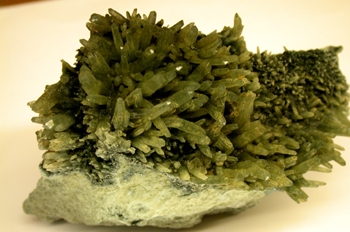 Prase or green quartz It has been found in several mining towns in the province of Córdoba.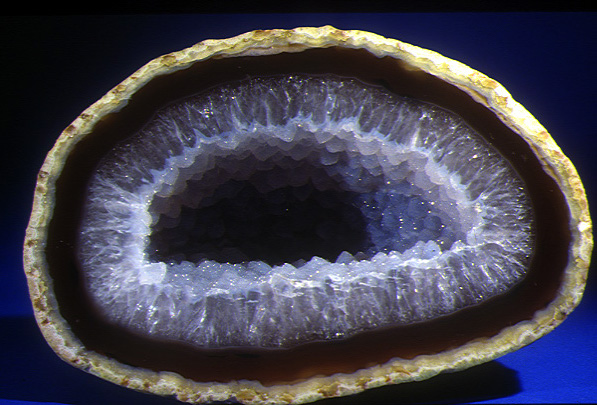 Agates and Onyxes. Specimens have been found in the hills of Almodóvar and Los Angeles (Madrid), Montes de Toledo, Sierra Morena, Cabo de Gata and Isla de Alborán (Almería), Rafales and Valderrobres (Teruel), Alburquerque and Monesterio (Badajoz).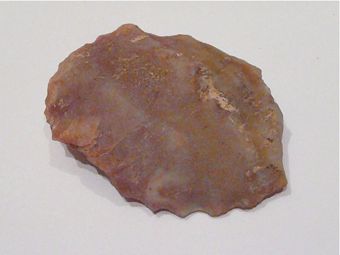 Flint or Flint. In Vallecas and Vicálvaro (Madrid), Cabañas de la Sagra (Toledo), Tarancón, Villar de Donúngo García and Cañaveras (Cuenca), in La Alcarria (Guadalajara), Baños de Agua Hedionda (Jaén), Tajo del Chorro, Arroyo de Granados , Ardales, Manilva, Carratraca and Casarabolena (Málaga), Berceruelo and Mucientes (Valladolid), strictly nodular in Ocaña (Toledo) and Jadraque (Guadalajara) between plaster.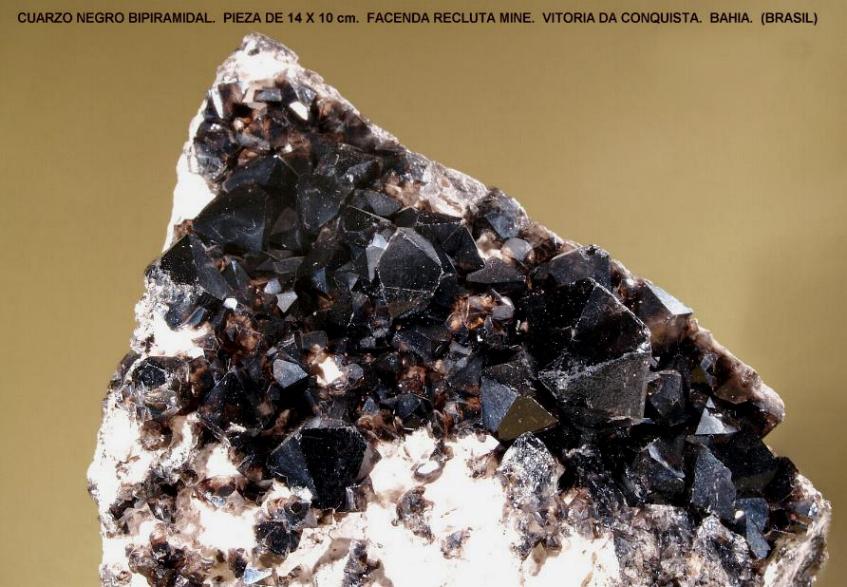 The flint variety of black color, named Lidita It is quite easily found with the fossil remains of mastodonts in Córcoles (Guadalajara).
Job: Widely used in the optics industry, in precision and scientific apparatus, for radio oscillators, as sand is used in concrete mortars, as powder in porcelain manufacture, paints, emery paper, abrasive pads and as wood filler . Its varieties are colored as ornamental stones, opals of various colors (triplets) being highly valued in jewelry.
Opals in Cabo de Gata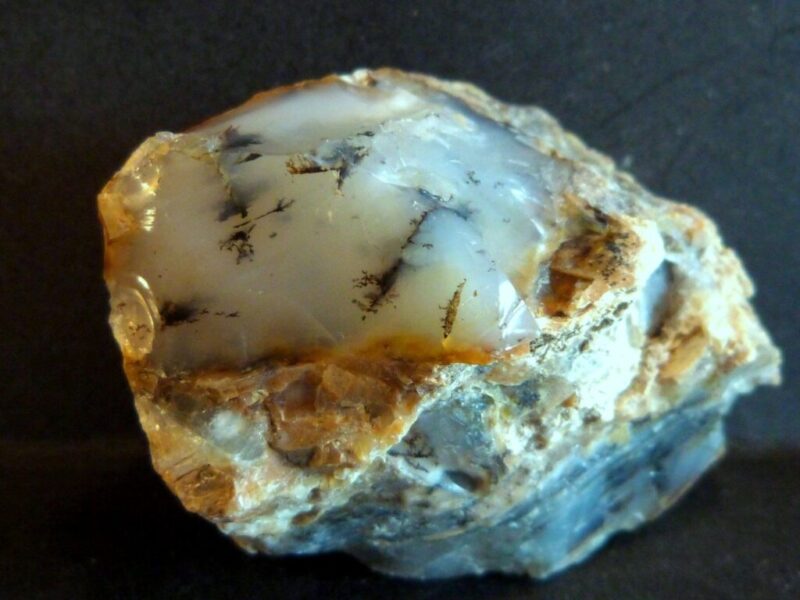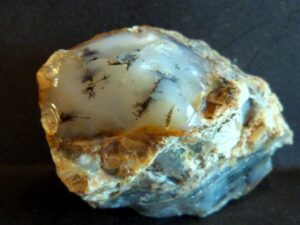 Opal. Despite being recognized as a mineral, it is not such in the strict sense of the word, since it is composed of amorphous silica. ...
This is composed of silicon dioxide (silica) is similar to quartz with the difference that opal is hydrated, that is, it has water molecules in its composition
Mining Environment. Rodalquilar