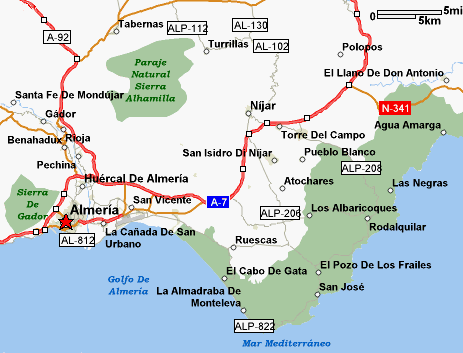 We can get
Access :
From the Autovía del Mediterráneo (E-15; N-340), there are seven exits that allow access to the different towns of the Cabo de Gata-Níjar Natural Park and which are the following, located from east to west:
Exit 494: Carboneras, which guides us to El Argamasón, Gafares, Cueva del Pájaro, El Saltador, Agua Amarga, etc.
Exit 487: Campohermoso-Las Negras, from where you can get to Fernán Pérez, Las Hortichuelas, Las Negras, Rodalquilar and San Pedro.
Exit 481: Níjar-Lucainena, which facilitates access to Campohermoso and from there to other destinations.
Exit 479: Níjar-San Isidro, allows us to reach San José, Los Escullos and the Isleta del Moro, as well as Cabo de Gata.
Exit 471: San José, facilitates access to the population, as well as to Los Escullos and Cabo de Gata.
Exit 467: Cabo de Gata, takes us to Cabo de Gata and San José.
Exit 460: Airport, Cabo de Gata and El Alquián, allows you to reach these towns and the population of San José.
In addition to this easy and fast communication thanks to the accesses of the Mediterranean motorway, a network of regional roads runs through the entire Park.
These provide us with multiple options when choosing a destination within the localities that are inside the Natural Park or the rest of its options.