What is the Cabo de Gata Natural Park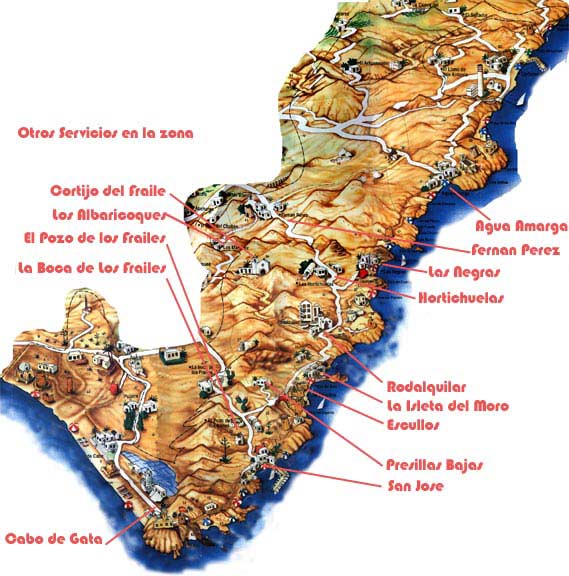 Created in 1987, it is the only Maritime-Terrestrial Natural Park in Andalusia. It covers the municipalities of Almería, Níjar and Carboneras, it is located in the area of the cape of the same name, in the extreme southeast of the province of Almería.
We therefore have a Natural Park contained in 3 municipalities, most of them in the municipality of Níjar, with 23 pubelos in its territory and about 5,500 inhabitants. Its 33,663 Has. of protected space are classified as a Special Protection Area for Birds and are also included in the list of wetlands of international importance (RAMSAR Convention).
We also find areas whose dry climatic conditions are similar to those that exist in large territories in North Africa or the Middle East, which identifies this place as the most arid enclave in Western Europe. Despite this and its apparent desert appearance, it contains very peculiar forms of animal and plant life, which have managed to adapt to extreme arid conditions. The biodiversity of the area is of vital interest.

Of great ecological interest, it includes one of the most beautiful coastal strips in the Mediterranean Sea, dotted with cliffs and dotted with small and lonely coves, extensive beaches and reefs.
We also have the Sierra de Cabo de Gata which is one of the volcanic massifs in Europe.

In 1987 it was designated Maritime Terrestrial Natural Park in Andalusia.
In 1989 it was included in the Special Protection Zone for Birds of the European Union.
In 1990 it was included in the list of wetlands of international importance. (RAMSAR Convention).In 1997 it was declared a Biosphere Reserve by UNESCO.
In 2006 he became a Member of the Global Geoparks Network.

In the terrestrial botanical aspect, it should be noted that in the Natural Park of Cabo de Gata-Níjar, there are important scrub and herbaceous formations formed by cornicabra, matagallo, Moorish gorse, esparto and palm heart (the only native European palm tree), in addition to the species autochthonous, such as the dragoncillo from Cabo de Gata or the carnation from Cabo.
When we immerse ourselves in its crystalline waters we find mud and sand plains and rocky bottoms, which are the underwater prolongation of the volcanic mountain range. Extensive oceanic Posidonia meadows develop, which feed and shelter a large number of species of fish, mollusks and crustaceans.
Of the marine fauna we can highlight the scorpionfish, the cabrilla and the kinglet. It also offers us a great wealth of terrestrial fauna, being able to mention 3 species of amphibians, 13 of reptiles, 17 of mammals and 101 of birds.
* (Map modified from the original given in 2001 by Azucena la Guía and edited by her company Grupo 126)